The House on Gryphon Hill
- Index - Maps - Encounters -
- Domains of Dread - Contribute -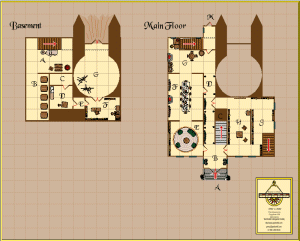 The map shown here was based on a map included in the Ravenloft II : The House on Gryphon Hill adventure.
It portrays the estate where Lord Godefroy, the ghost darklord of Mordent, resides.
It is riddled with secret doors, corriodors, and stairs, and thus the maps for Players and Gamemasters are hugely different.
These pages contain the maps for the house on Gryphon Hill, In both player- and game master form. The maps are labelled following the adventure. You would need this module for the map key.
Legend

Main Floor
A. Front door
B. Foyer
C. Grand stair
D. Long hall
E. Reception
F. Dinign hall
G. Kitchen
H. Study
J. Library
K. Hidden passage
L. Fireplace passage
M. servants entrance
N. Iron doors

Second floor
A. Top of stairs
B. Guest quarters
C. Servants quarters
D. closet
E. Master's quarters
F. Master's walk
G. West tower stair
H. North tower stair
J. Upper study

Rooftop
A. Slick slate
B. Main tower stairs
C. Fissured dome
D. West stair
E. North tower
F. Smokestack
G. East tower
H. South tower

Basement
A. Pantry
B. Wine cellar
C. Secret entry
D. Private room
E. Secure door
F. Private study
G. Abandoned lab
H. Shaft
J. Lost cells
K. Long passage
L. True way

Maps

Game master maps
Player maps

Sources
Reactions
Please send us any ideas, comments, or noticed mishaps by filling in this form.

Comments and suggestions regarding this site be sent to:
gomez@gryphonhill.com